If you can ride a bike, you're probably aware of the two most significant gears: the one connected to the pedals that you turn, and the one that turns the rear wheel. But take a look at the picture below.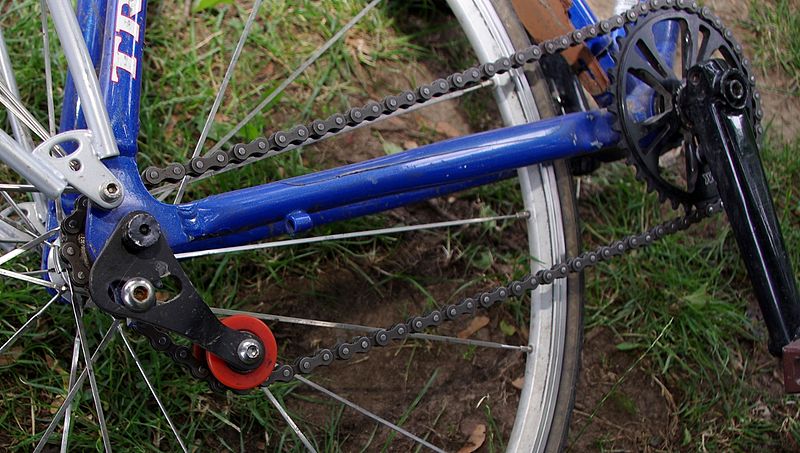 What is the purpose of that red thing? It's neither the pedal gear nor the wheel gear, but without it the bike would not work. It's the tensioner. Its whole job is to press outward on the chain, to keep a certain amount of tension on it. If there's not enough tension on the chain, it'll fall off the gears.
To draw an analogy with language learning:
The pedal gear is where you put the effort into language learning.
The rear wheel is what you get out of it: better language ability.
The tensioner is constant pressure you need to apply to make these things connect.
The tensioner is that small bit of positive stress in your use of language—"positive" in that it prompts you to want to learn more, and to keep your lessons relevant to your daily life.
Some people are "out there" trying to get stuff done in the language. People like that probably have all the positive stress they need already—probably some negative stress too!
I expect that most of us, however, need a "tensioner" in our lives. We can converse fluently in our five routine conversations. But what's going to get you to the next level? That's where the tensioner comes in. It's the next thing you're trying to learn. It's what keeps you growing in the language.
I have the personal goal of understanding Afghan culture better. Recently, I've started reading poetry with a language teacher. Poetry does two things for me:
It stretches my language ability, because it's not easy—though if you're thinking of getting into it, it's not as hard as I thought it would be either.
It opens up cultural doors. What does the reed symbolize? How could a single death be that upsetting? I don't have answer to those questions, but now I have the questions.
What could your tensioner be?
A radio program
A television show or serial
A book or short story
A work goal: being able to give a lesson or a speech, or being able to read a translation
Random flashcards—I learned the word اِنقِلابی from a deck of flashcards a three years and ten days before I heard it in real life, but when I heard it I was ready! (If that seems oddly specific, the flashcard program keeps track of dates and I heard the word for the first time the day I wrote this.)
It doesn't have to be big. I spend about two hours a week on poetry—one hour with a teacher, one hour in private study. It's just enough to keep the pressure on, to make sure that I keep learning.